P.O. Box 617 | Lancaster, TX 75146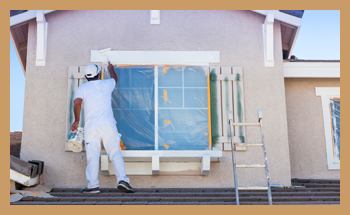 A Plus General Contractors offer interior and exterior painting services for residential and commercial properties throughout Dallas, TX. Our commitment to quality begins with the prep. We take the time to properly prep every inch of the surface to ensure an outstanding paint job. We have the knowledge to get the job done right, on time and within budget. When looking for a professional painting contractor for your home or business in Texas, it is important to know all your options. We will help guide you throughout these decisions so you can get the best results for your project. There are many different factors that come into play such as budget, time, colors and the type of paint you choose. We will make sure you are property educated so your new paint will stand the test of time. Our crew works hard to make sure your new paint looks perfect, is done on time and your property is cleaned up to the same condition when we leave. We have the experience and equipment to complete residential or commercial interior and exterior painting projects of any size. We use only high quality environmentally friendly painting products on every job. In addition, we use only modern equipment and techniques for optimal application of coverage. Our paint, sprayers, brushes and materials are top of the line and promote exceptional results. Painting upkeep is very important to maintain the integrity of your property. We will make sure you are aware of any areas of damage as well as recommendations on where our services are most needed. We stand behind our work on every job we do.
INTERIOR PAINTING CONTRACTOR
IN DALLAS TX
Are you looking for a house painter or commercial painter for your home or business? The interior of your home is where you spend much of your days and nights. In addition, the interior of your business is important to maintain for your customers, employees and your building. We take care when painting the interior of your home and business not to disturb your belongings and operations as well as work around existing fixtures and furniture. Our superior craftsmanship and attention to detail ensures your equipment, property, flooring, fixtures, furniture and baseboards are protected throughout the entire painting process.
Our professional Dallas painting service begins during our preparation, where we take the extra steps to ensure an excellent paint job. We take the time properly prepping the entire area including taping and caulking to make sure there is no over spray or paint where it is not supposed to be. We are your Dallas painting contractor for residential or commercial interior paint jobs of any size!
EXTERIOR PAINTING CONTRACTOR
IN DALLAS, TX
The exterior of your home or business is extremely important to maintain for the longevity of the structure. It is not only important visually, but also very important structurally. A building is only as strong as its foundation. The same goes for the protection of the paint and materials on the exterior of your home or business. We take great care in providing accurate estimates and identifying any concerns we have that may need to be addressed. We want our job to be done right the first time and stand the test of time.
A large majority of a home or business professional exterior paint job is in the preparation. We take great care in making sure our detailed caulking, taping and cleaning is done correctly and thoroughly. We do this to ensure a quality paint job that is going to last. Not only will your building look perfect and beautiful, but it will be structurally sound. Our expert crew takes the time to make sure your home or business is protected from the elements and the job is up to our professional standards. A Plus General Contractors is your professional Dallas painting company for all your residential and commercial painting needs.
OUR DALLAS AREA PAINTING SERVICES
Commercial Painting
Residential Painting
Interior Painting
Exterior Painting
"A Plus General Contractors did an awesome job for our company. They were efficient and on time. Cody walked us through the process that it was going to take. His workers were very professional. Will continue using A Plus General Contractors for all our construction needs."